We left the Dominican Republic in a whirlwind.
On Monday evening, March 16th, we received the news that Jolie's school was canceled and would now be online. This came on the heels of several days of realizations that all of our ministries were going to become impossible due to the shutting down of everything.
The next morning we spoke with the directors of our mission agency, who urged us to come back to the US as soon as possible. We proceeded to purchase plane tickets to leave the DR less than 48 hours later. That same day the Lord provided someone to stay in our house and care for all of the pets.
That evening we went to some Dominican friends' house to say goodbye and learned that the Dominican president had announced a country-wide quarantine and that the borders would be closing at 6am on Thursday morning. Our plane was scheduled to leave at 6:10. We spent an hour and a half waiting to speak to the airline, to find out whether our flight was to be canceled. They assured us that because it was an international flight, we'd be boarded on the plane and the doors would be closed 15 minutes prior to take-off. That would leave us with 5 minutes to leave the country before its borders closed!
Wednesday was full with packing and cleaning and paying all the bills we could before leaving the country for an indefinite amount of time. After arising at 3am to load up and head for the airport, making it through security and all the other procedures involved in leaving a foreign country, you can imagine our relief when the plane took off just before 6am, literally one of the last to leave the country. After a grueling day of travel, we were equally relieved to arrive in Portland almost 19 hours, 3 planes, and 4 airports later.
We were immediately quarantined at Tonya's parents' house due to traveling, and have since graduated to regular quarantine, along with the rest of the world. We watch and wait and pray, along with the rest of you, for our country and our world, during these strange and unsettling times in which we find ourselves. We know that there is much uncertainty and fear among many of you, and even as we ask for your prayers, we'd like for you to share yours with us, so that we can pray for you as well.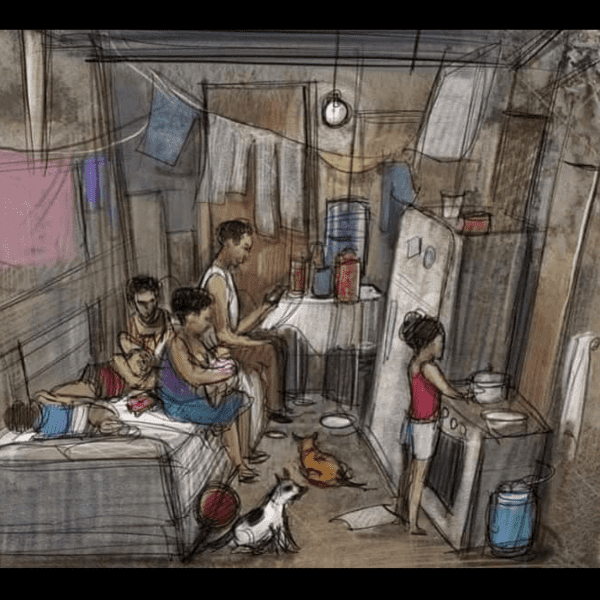 We share the above image as the first of our prayer requests. It was shared on Facebook and captioned "Not all of us live in the same quarantine." As you pray for our country and the people you may know around the globe, please remember the Dominican Republic in your prayers. Many of the people in our neighborhood live in homes as pictured here. And many people who earn their living daily are now unable to work. For a developing country, the economic consequences are devastating, and our hearts are with them. We pray that the Lord will use this to draw people to Himself.
Pray also for our family, as we feel stuck between two worlds. Please pray for a time of rest and healing for our family, as we have faced some difficult trials in the last few years. Pray for wisdom and direction for our future once this time of quarantine is over.
As always, we are thankful for your prayers and support. We know that some of you may be facing economic hardship and we want to release you from your financial commitment to us if that becomes necessary. We trust the Lord to continue to provide for us as He sees fit.
We hope you all are well. If you wish, simply reply to this email in order to share your needs and prayer requests with us.
Trusting in Him,
Ben, Tonya, Jolie, Ivan, Samuel, and Melody
To see past issues of our newsletter or to join our mailing list, click here.