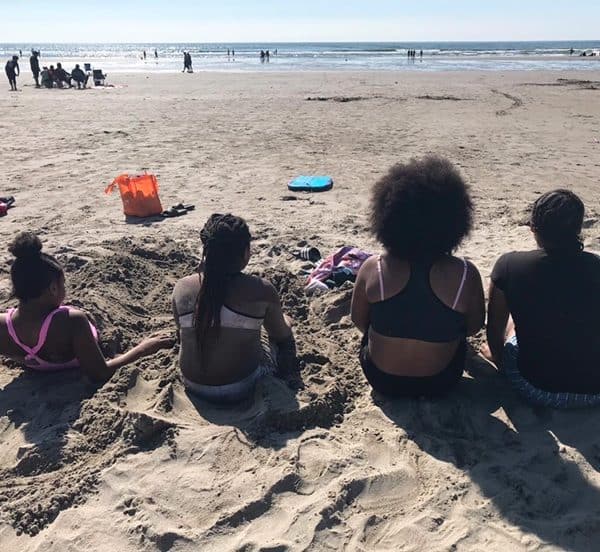 We Belong took the kids on a beach trip last month. We all had so much fun!
Ministry in Portland
I'm sure most of you are aware of the terrible events unfolding in A'stan. One of the "A" women whom I've known for a few years has a sister who just escaped on foot three weeks ago with her two small children. She is now hiding out in Turkey, and I am trying to help her. I was given the contact info for a lawyer who helps relocate refugees, but although I've been attempting to reach her for almost two weeks, I have not received a response. If anyone knows where I should turn next, please let me know!
I am happy to be able to share that Nazira, the Syrian girl whom I have been teaching to read, is just about proficient! I am so excited for her to begin this school year with that skill, which will help her immensely.
I am still volunteering with We Belong, the kids club in Portland which I've been working with for almost a year. Their first fundraiser is planned for this Friday (details pictured) so if you are local, please come on out for a fun evening and help support a good cause!

Six moves in four years?!
Yes, we are moving for the 6th time in 4 years. Call us crazy, and maybe we are (although a couple of those moves were outside of our control), but due to the current situation in Portland, we are moving again! This time it will be across the river to Vancouver, Washington, and we are excited about it! After months of searching and making two previous offers, we've found and closed on a house we all love. The location is central, which is perfect because three of us will still be commuting to Portland for jobs and ministry. But we are looking ahead to planting roots in Vancouver; three of our kids will be joining homeschool co-ops there, and we are going to be looking for a new church home (let us know if you have any recommendations!) We are excited about this new chapter of our lives. I am praying about opportunities that God may have for me to be in ministry in Vancouver. I'll keep you posted on what He reveals in the next few months!
Ministry in the Dominican Republic
I am thankful that our trip to the DR in June was very fruitful! Not only was it healing for Jolie and me, I was also super excited to be able to complete the video project as we had hoped to do! Because I have more to share about Abby's Garden, I am going to keep it brief for now and send out another update soon. For now, I'd like to share that we are hoping to launch by 2022! That means that we need people to begin giving now! If you would like to become a regular supporter, click on the link below, then click on missionary directory, and find Abby's Garden listed under Storment. If you are part of a church or small group and could invite me to come share our vision for Abby's Garden, or even just share our video there, please let me know!
With love,
Ben, Tonya, Jolie, Ivan, Samuel and Melody
To see past issues of our newsletter or to join our mailing list, click here.