Phase 3 is complete!
Rachel is now a certified Biblical Counselor with the Association of Certified Biblical Counselors!
Rachel just completed Phase 3 (50 sessions of supervised Biblical Counseling) to become a certified Biblical Counselor!
Often asked questions:
Can Rachel now charge for counseling services?
Yes. However, we both feel it's best to keep Biblical Counseling under the outreach/discipleship arm of the local church so we will be offering it for free through the partnership ministry of New Hope Baptist Church and Be One Together.
What all was involved to become certified?
Phase 1- 30 hours of training, 10 hours of observation, and 1000 pages of reading from an approved reading list.
Phase 2- Exams. 20 Theological Exam Questions answered in 1-1.5 pages each. 25 Counseling Exam Questions answered in 1-1.5 pages each.
Phase 3- Supervision over 50 client sessions. This included over 65 hours of time spent with counslees, numerous homework assignments (12 books to read, scripture to memorize, various workshops to listen to, case reports, etc.)
Why certification?
Both Curtis and Rachel have been doing informal Biblical Counseling for years. They each have received around 120 hours of training from Faith Biblical Counseling Conference over the past 4 years. We felt it would add credibility and excellence to the biblical counseling we offer in our ministry if one of us were to become certified. We also hope to get others involved and trained to do biblical counseling and it will help to have someone who has received the extra training certification provides.
Has it been worth it?
Absolutely! It's made for an intense couple of years but it has changed so much of how we approach ministering to others in a one-on-one format. We have seen God grow us personally and equip us more fully for the ministry of speaking Biblical Truth into the tough situations and circumstances people are facing in their lives. We are seeing lives, hearts, marriages and families being transformed by the Gospel of Jesus!
Currently Counseling
Curtis is currently counseling 3 men. Rachel is currently counseling 4 women- with other women on a waiting list. We are co-counseling pre-marriage currently and have another couple waiting for marriage counseling. God is growing this ministry and we are already having a hard time catching up to the need.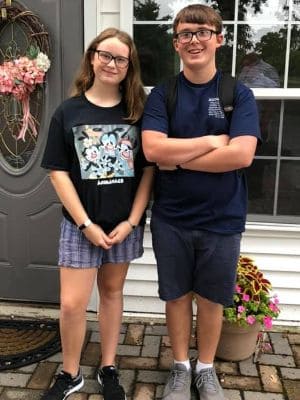 Highschool and Jr. High already? Gulp!
Noah began his freshman year at Eastbrook High School. He plays tuba for the band and over the summer was part of the marching band program. He is active in the youth group at church and is currently helping Rachel teach children's church bi-monthly as well as working in the AV area on Sunday Mornings. He is usually found reading a book or playing board games.
Hannah began her 7th grade year at Eastbrook Jr High. She is playing trumpet in the band. This summer she got her first official babysitting gig. She is also super involved in the church youth group, serves in the nursery monthly, and is also part of the church kitchen committee. She enjoys reading, camping, and comics.
Curtis and Rachel Rhoadarmer
Indiana
To see past issues of our newsletter or to join our mailing list, click here.