Prayers and Praise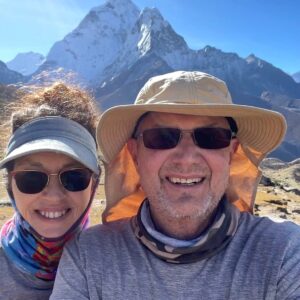 Praise:
Praise God that we have 2-3 trainings for our business Learning to Thrive coming up in the next few weeks. We will be providing group training is suicide prevention, resilience, grief and loss, trauma, and stress management.
We are traveling to Ilam in eastern Nepal from April 12-20. We will be ministering in villages and at a women's conference.
Our business is moving forward.
We are planning a short weeklong trek at the end of the month to Langtang.
Pray for:
Journy mercies.
The success of the trainings.
Health
Cultural adjustment.
Financial provision.
Thanks for being a part of the journey To God be the glory!
"In your relationships with one another, have the same mindset as Christ Jesus:
Who, being in very nature God,
did not consider equality with God something to be used to his own advantage;
rather, he made himself nothing
by taking the very nature of a servant,
being made in human likeness.
And being found in appearance as a man,
he humbled himself
by becoming obedient to death—
even death on a cross!
Therefore, God exalted him to the highest place
and gave him the name that is above every name,
that at the name of Jesus every knee should bow,
in heaven and on earth and under the earth,
and every tongue acknowledge that Jesus Christ is Lord,
to the glory of God the Father."
Philippians 2:5-11
This passage is perfect for looking forward to Resurrection Sunday. There is much to reflect upon and be grateful for.
Recently a friend here in Nepal from South Africa told me about some advice he received when going on the mission field. A seasoned missionary said, "Give up your rights." This sounds crazy at first. Especially for those of us that come from countries that advocate for people's rights. But sometimes in adjusting to life in another culture you have to lay down your rights so you can represent Jesus well, and not be beaten up by resentment. This may look like giving up the right to comfort, control, turning the other check when someone cuts you off in the street, walks into you, cuts in front of you in line, the right to be understood and so on.
Jesus humbled himself and became one of us. This passage starts by saying we should have the mind of Christ. You don't have to live in another country to be a missionary. The mission field is right out your front door. Where might God be asking you to have the mind of Christ and lay down your rights? How might this actually benefit you and advance His Kingdom?
You Better be Up!
7 AM and the morning sound is broken by the blast of a whistle and siren. When we first moved to Nepal and heard this, we thought it was a first responder vehicle. No, it's just the garbage truck!
One more of those little cultural "adjustments."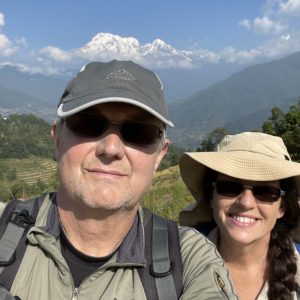 The Von Raeders in Nepal