So much happening at Abby's Garden!
We are so excited about the growth we've seen at Abby's Garden in just a few months' time. We have gained another employee, quadrupled the amount of kids (from 2-8!) and have moved into our own space! So much to be thankful for!
I am making a trip to the Dominican Republic next month to celebrate the 6 month anniversary of Abby's Garden being open, make a new video I can show at churches to share the vision for the ministry, and visit friends and the beach! My mom is coming with me, as well as Melody; it'll be Melody's first time there since we moved back to the US in 2020.
As we did before, we'll be taking supplies for the daycare with us, so please visit our wishlist at https://www.amazon.com/hz/wishlist/ls/1RDH8XP0I2TLE/ref=nav_wishlist_lists_2 if you'd like to participate in this way.
While I'm there, Divina and I will be visiting throughout the neighborhood to be sure that everyone is aware of the resource that Abby's Garden provides for teen mothers. We want to meet the girls who live there and let them know we want to help them continue their education by caring for their children, and support them as they raise their children. You can be praying that God will lead us to the girls who need us.
Don't forget to follow us on social media for more frequent updates. We are on Instagram @abbysgarden2022 and Facebook at Abby's Garden. If you click on the links at the bottom of this letter, you can follow us now while you're thinking about it 🙂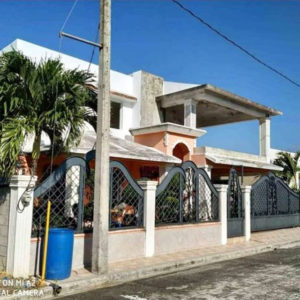 This is the house we found for Abby's Garden! It is perfect for the size we are now, with a kitchen which opens onto the main room where the children play (not a common thing in Dominican houses–it is more typical that each room is closed off). So even when food preparation has to be done, Divina and Tania (our new employee–more about her in the next update) are able to keep an eye on the kids. It also has a separate room just for babies, and the potential for more growth with that second level you can see in the photo, which is incomplete. We will see what God does with this space in the future!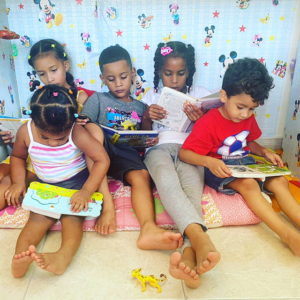 Literacy is an important part of growing up to have more options. Libraries don't exist in La Vega, so we want to build our own for the children of Abby's Garden.
Local Ministry
I continue to be a part of We Belong PDX, the after school program for at-risk children. Recently I was asked to consider becoming a Location Director, overseeing two new locations in Portland. This would entail running the program, coordinating with the principals of local schools to ascertain which kids are most in need of help, and getting to know the families of the children. We are praying about this opportunity, so please pray that God would make it clear whether I should step up to this position at this time.
Earlier this year I asked for prayer for an eight-year-old girl in an abusive situation, and I am happy to report that she was taken out of that situation and is now living with an aunt, and has still been able to be part of We Belong! These are answered prayers for sure.
A new ministry opportunity!
In April I attended a 4-day workshop called HeartChange, which was very impactful. This month I have the opportunity to be on staff, and am very excited about it. Please be in prayer for this, as workshop attendees can be dealing with some very serious wounds and addictions. I would love to be used by God in a powerful way in their lives.
Thank you so much to those of you who take the time to read our updates, pray, and give. You are an important part of the ministry that we do!
With love,
Tonya