Mike and Mary Pinkerton – Ministry Leaders
Heart passion placed by God in Mike and his wife Mary involves ministry with culturally, ethnically diverse people groups through outreach, discipleship, and gathering together those who know Jesus as their personal Savior. He often says, "There are only two types of people, saved and lost." Mike serves on the national committee for Ethnic America Network and Mary serves as the Events Executive.
Voltaire and Tina Cacal – Chairman of the Board
Voltaire is a first-generation Filipino-American, born in Ilocos Norte (a province in the northern region of the Philippines) and reared in the San Francisco Bay Area since the age of nine months. He is the oldest of three children and grew up in a Christian home influenced by the sacrifice of a western missionary who came to the Philippines in the 1950's. He came to believe in the Lord Jesus Christ as his personal savior at the age of eight. He is a graduate of Cal Poly (San Luis Obispo, CA) having received a B.S. in Electronic Engineering and an M.S./M.B.A. in Engineering Management, and had extensive experience in the telecommunications industry (having been involved with introducing DSL as well as new Optical Networking technologies). He moved to the Dallas Metroplex in 1997 to continue his career in telecommunications and has been involved with The Biblical Community Church of Dallas where he serves on the Board of Elders and as Pastor for Missions & Evangelism and Family Life Ministries. In 2001, he left a lucrative career in telecommunications after submitting himself to the Lord's calling and continues to use his skills in networking, informative presentations, and strategic ministry development. He graduated with a  M.A. Cross-Cultural Ministries program from Dallas Theological Seminary. Voltaire also serves as the Vice-Chairman of Ethnic America Network.
Marco Benavides – Board Member
Marco currently resides in the great state of Oregon. He has been married to the love of his life, Jacqueline, for almost thirty years and together they have raised two sons. Marco graduated from the University of Oregon in 2011 where he earned his Master's in Business Administration.  He has been employed with the State of Oregon for over twenty years as the District Manager for the Department of Human Services. With a calling to serve, Marco has been heavily involved in his home church, Iglesia de Cristo Vive, over the years. He currently serves as leader of their mission's committee, holds a position on the deacon board and also takes part in their youth and couple's ministries.
Lance Eisele – Board Member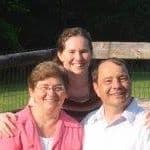 Lance currently resides in Morgantown, Pennsylvania.  He is married to his wonderful wife Karen, a nurse and a fantastic help-mate.  They have a daughter, Trisha who serves as a director of a PreSchool. Lance graduated  from Messiah College and attended Westminster Seminary.  He is a pastor and has served the Lord in Idaho, California and Pennsylvania.  He also served as a missionary in church planting.  He enjoys the Word of God and preaching.  He presently serves in Pennsylvania, at Grace and Truth Fellowship. As a chaplain/ board member it his desire to keep God's will in front of all the staff and missionaries of Be One Together.
1Pe 4:10 Each one should use whatever gift he has received to serve others, faithfully administering God's grace in its various forms.
Rebecca Roehl – Finance Director
Rebecca has previously served as a missionary in Montana with teen girls, bookkeeper for Camp Bighorn, and church secretary. She presently resides in Orange, CA, where she has worked in the customer service and financial bookkeeping fields. She serves her church in the nursery as well as hosting a small group.
Steve Ingram – Advisor
Steve's career has been devoted to serving and supporting not-for-profit organizations in achieving their mission.  His experience in governance and leadership, board development, strategic and business planning, as well as resource development can be valuable to organizations desiring to become more effective and focused in accomplishing their goals.  He is an experienced and passionate facilitator for group process and a strategic thinker.  Steve has often served as an interim executive and transition manager.  He has served on a ministry team coaching pastors and lay leaders in churches and organizations around the country.  Steve currently serves as Executive Director of the Indiana Criminal Justice Association and Board Advisor for Standards of Excellence in Short-Term Mission.
 Jennifer Minnich – Administrative Assistant
Jennifer, a native to Jacksonville Florida, relocated to Atlanta with her husband Jared in 2007. A graduate from the University of North Florida, Jennifer spent the better part of a decade working in property management. After several years of balancing work life and family life, and lots of prayer, the Lord provided a way for her to stay at home and focus on family and ministry. It was this blessing that allowed her the opportunity to come alongside Be One Together in the beginning of 2015. She is excited to see how quickly B1.2G is growing and to learn how God will use her family in the work for His kingdom!
Brandy Hearn – Administrative Assistant
Brandy and her husband David live in Douglasville, Georgia with their three boys. She worked in banking and administration for six years, before she had her first child. The Lord then blessed her to be able to stay home with her boys. She has volunteered in the office and children's ministry at her church for the last nine years, and she is excited to use her gifts to assist Be One Together. David served as part of our Philippines Team 2018 and is prayerfully considering serving with the upcoming 2020 team.
Don and Carol Adams (TN)
Ministry in Eastern TN and Western NC reaches a number of directions. Don pastors a church near Newport, TN from which come a number of volunteers encompassing seasonal and year around ministry. Ministry outreach involves: nursing homes, special homes for the mentally impaired, day programs in 11 country schools, VBS, day camp, Hispanic migrant workers, children's camp speaker, special church programs and visitation. They are always excited when God opens any door knowing that His word never returns void. They hope to continue many more years.
Justin and Kendal Adamson (GA)
Served on our 2018 Philippines Team and is prayerfully considering serving with the upc0ming 2020 team.
Lilly Brown (GA)
Served on our 2018 Philippines Team and is prayerfully considering serving with the upc0ming 2020 team.
Bob Carvajal (LA)
Bob Carvajal has been working with high school and college age youth for 46 years and truly believes God has been grooming him for today's ministry. Bob partners with a local church working with unchurched and troubled youth. Bob teaches a guys senior high Bible study and assists with the college age Bible study. Bob also leads the youth group bus ministry. Bob's age and experience allows him to be a consultant and confidant of the local youth minister as well as part of a mentoring program at the local high school. Bob counsels with many of the youth and others recommended to him. As a result of his work with at risk youth, Bob recently became the legal guardian of a 15 year old young man whose drug addict parents were unable to care for him.
Every Friday at 4 pm(EST) Bob hosts a talk show "The Current Word" on a local Christian Radio Station WSHO AM 800 and fills in for the other host.
Youth disciples, Stephen Michel Band with Bob's help developed a worship band and recently recorded their first CD.  Bob's favorite Bible verse is Romans 8:38-39.
Erik Davison (GA)
Served on our 2018 Philippines Team and is prayerfully considering serving with the upc0ming 2020 team.
Jerry and Cheryl Davison (GA)
Kerri Edger (GA)
Served on our 2018 Philippines Team and is prayerfully considering serving with the upc0ming 2020 team.
Miguel and Isabel Fernandes (Portugal)
Miguel and Isabel met shortly after she started her journey as a single missionary from Brazil to Portugal. In 2000, Miguel & Isabel were sent by Isabel's home church in São Paulo, Brazil, as a missionary couple to Portugal. The Lord blessed them with a growing family. First came Eliel Jesse, then Gabriel and Kevin Daniel.
Their family has a heart for church planting and they are currently in the early stages of planting a church in the city of Cartaxo, Portugal.
Isabel is passionate about prayer, spiritual growth, renovation and evangelism. Loving others and caring for them are big ones for her. Isabel studied at the Word of Life Bible Institute in Brazil. She is a great cook!
Miguel has a heart for personal relationships, teaching and seeing people grow in the Lord. He is currently working towards a PhD in Neurology, Literature and Theology. He feels excited when bringing to surface the connections between culture, especially literature, and theology.
Robert and Mary Jo Foster (GA)
In partnership with Be One Together, Evangelism Explosion Brazil and the Fosters' purpose is to glorify God, equipping believers to multiply in and through local churches worldwide. Their vision is for every nation to equip every people group and every age group to witness to every person. As Evangelism Explosion Brazil's ministry-building specialist, Robert is involved in leadership development, strategic planning, teaching/training for evangelism/discipleship, Portuguese materials translation and development, etc. He works directly with and through the Brazilian National Council, a national coordinator and regional coordinators. Please pray for increased implementation of the new training materials, the scheduling of more clinics and workshops throughout Brazil and for more denominations to adopt the training for their local churches.
Additionally, Robert has been involved with the Ethnic America Network (EAN) since 2002 and serves as a board member. He is an active member of the EAN National Committee, which among other activities holds Ethnic Ministries Summits.
Mary Jo serves in leadership in Bible Study Fellowship (BSF) and currently serves in leadership for a new satellite class in the Woodstock, GA, area.
Rachel and Ethan Harris (WA)
Ethan and Rachel Harris are called to work with the Native American people of Okanogan County, WA. They currently serve in Nespelem, WA alongside Be One Together missionaries Bob and Mina Twitchell and Michael and Brenda Jones. They are eagerly anticipating a relocation to live on the Colville reservation in order to share Christ's love in a tangible way. They feel especially burdened for youth and currently serve as chaplains at Okanogan County Juvenile Detention Center where they lead a weekly Bible study.
Mike and Brenda Jones (WA)
Michael and Brenda Jones are ministering on the Colville Reservation in Nespelem, WA. They enjoy weekly visits at the Tribal Convalescent Center where they teach the Word of God with some of the elders who would otherwise not be able to worship in a traditional setting. The Jones' are also looking forward to starting a tribal church gathering along with Be One Together missionaries Bob and Mina Twitchell.
Manuel and Angelina Lopez (OR)
Manuel and Angelina pastor a small congregation in Salem, OR. They also have an outreach to the Mixteco people living in the Portland, OR, region. Mike and Mary Pinkerton met Manuel while he was working in the field picking strawberries. He studied at Rio Grande Bible Institute and loves teaching people about the Jesus that gave him hope and purpose. Angelina loves teaching the children about the Lord.
Katherine McDonald (GA)

Served on our 2018 Philippines Team and is prayerfully considering serving with the upc0ming 2020 team.
Dan and Sarah Morrow (OR)
Dan and Sarah are missionaries to Salem and surrounding areas. They have a desire to see families move forward in health and towards Jesus. They believe healthy families make healthy churches, and healthy churches make healthy communities. Dan accomplishes this through putting on classes in the community, compiling local resources and networking with churches and organizations. He is also working with other churches to help create family ministry where there wasn't anything previously. In addition to helping Dan, Sarah works full time at their partner church, Salem Alliance Church.
Moises and Lucy Moura (TX)
Moises came to Christ at the age of 16 and heard God's call when he was 18 years old. At Bible College he met and eventually married Lucy. After graduating, Moises begun his ministry as senior pastor and served for 16 years as a pastor and church planter. In 2001 the Mouras moved to Dallas where Moises attended and graduated with (Th. M.) from Dallas Seminary.
Luzimar or (Lucy) accepted Christ when she was 14 and heard the Lord's call when she was 18. Lucy has a passion for small children and for those in need. She has served in the community as Christian educator at church and in the community. Lucy holds two bachelor degrees: One in Christian Education in Brazil and a B.A. from UNT. Lucy is a bilingual teacher (English and Spanish) at Dallas School district. They have three grown children and a grandson that lives in Dallas, Texas.
Our ministry: Global Leadership Training in Portuguese Speaking countries (Brazil, Portugal and Mozambique.)
Thousands of churches overseas have leaders with very little to no training causing church leaders to teach misinterpretation of God's Word. We teach church leaders in their own language with biblical integrity, cultural relevance, and academic excellence for an effective ministry.
Church Consultation: As part of our ministry, we offer workshops in Brazil to encourage pastors and church leaders to work as a team and to manage conflicts in ministry.
We serve under BeOneTogether and Mimosa Lane Baptist Church.
As they can testify, planting new churches is not for the faint of heart and can be a lonely, overwhelming, and all-consuming work.  But research shows that the probability of planting a successful, healthy church greatly increases when the planter has an experienced team to help carry the load.  Please pray for them as they embark on this new adventure with BE ONE TOGETHER!
David and Shari Oberg (WA)
David worked for the Boeing Company for 37 years as an IT Systems Analyst and Project Manager.  He has been active in various ministries within the church and most notably as Men's Ministry leader.  He is thrilled to use his marketplace skills to serve the Lord.  His wife Shari worked for 31 years as a public-school teacher and presently works with Seattle Pacific University student teachers and is actively involved in their church music ministry.  She is excited to work in ministry with Dave in support of Be One Together serving as their West Coast Ministry Center Liasons.
In addition to their role at Be One Together, David and Shari serve Ethnic America Network as Ambassadors and Events Project Manager.  David and Shari make their home in Federal Way, WA.
Hannah Kipp (CO)
Trent Peterson (CO)
Lyndsey Stecklein (CO)
Jazmine Brown (CO)
"For I know the plans I have for you," declares the Lord, "plans to prosper you and not to harm you, plans to give you hope and a future." Jeremiah 29:11 (NIV). I figured the best way to start this would be with a bible verse, my favorite. God knows the plans for my life, when I don't know them myself. I have the wonderful opportunity to be a summer missionary at Homestead Bible Camp in Roggen, Colorado through Be One Together, and I'm extremely excited. I've attended HBC since I was eight years old as a little camper, and this summer will be my fifth summer as a staff member, bringing my total years out there up to thirteen. I spend my summer as head female dorm staff along with a close friend, running the camp store, and leading worship. After last summer, I was certain that I wouldn't be able to return to Homestead Bible Camp. I am a twenty-year-old full-time college student at Colorado State University studying Animal Science and Agricultural Education. Being a full-time college student is very strenuous on financials, and as much as I loved Homestead Bible Camp, it wasn't in my budget. Then, God presented me with the opportunity, and it was clear then he really did know the plans for my future, and it was to be at Homestead. I'm excited for all the opportunities this summer will bring, and ask for prayers for all the campers, speakers, and staff who will be in attendance.
Curtis and Rachel Rhoadarmer (IN)
Curtis and Rachel Rhoadarmer are ministering to men and women in Grant County, Indiana.  Rachel volunteers as a Client Advocate at the Pregnancy Help Center where she meets with clients offering parenting classes and pregnancy tests.  She also leads the Post-Abortion ministry there. Rachel authored Mend: Journey to Sexual Healing in 2017, a Bible study focused on restoring and healing lives for those who have been victims of sexual abuse. She leads women through the study in one-on-one or group settings. Rachel also leads Grief Share and helps with women's ministry at our partner church New Hope Baptist Church where her husband, Curtis, is the Senior Pastor.
For more information or to buy Mend: Journey to Sexual Healing visit:
https://www.amazon.com/Mend-Journey-Healing-Rachel-Rhoadarmer/dp/154676481X/ref=sr_1_1?ie=UTF8&qid=1505914913&sr=8-1&keywords=mend
Or visit Rachel's website at www.rachelrhoadarmer.com.
Carly Rodman (GA)
Served on our 2018 Philippines Team and is prayerfully considering serving with the upc0ming 2020 team.
Jeff and Julie Shackelford (Germany)
Jeff and Julie Shackelford have a passion for Jesus Christ and to see the lives transformed by Him. For two and a half years, they ministered to the U.S. military and their families in Germany through weekly youth groups, coffee shop ministry, adult and youth Bible studies, discipleship groups and ministry to families as a whole.
They are now pastoring the Rejuvenation Ministry Center in Wiesbaden, Germany. It is an international church that reaches English speaking people. The body is made up of military, nationals and several international people groups as well.
Their years of full time ministry ranges from camp ministry, pastorates, men's and women's ministry, lay leadership development and mentorship/discipleship.
Their heart is to continue to reach the military and their families as well as all that God brings into their home and ministry. Follow them on their journey at www.rejuvenationmc.com.
Ryan Stallcup (Germany)
Ben and Tonya Storment (Dominican Republic)

Ben and Tonya and their four children moved to the Dominican Republic and are organizing a Skatechurch in the town of La Vega where they live. This will involve kids coming from all over the city to skate on the ramps and skateboards provided by the Storments through donors. Meetings will be weekly, and the Gospel will be shared each time.
They also reach out to their neighbors by hosting children's activities in their home, during which they sing, read a Bible story, make a craft and play games.  
Tonya also teaches English in a local elementary school while Ben is looking for openings at university or high school level. Teaching English is primarily used to build relationships and share the Gospel.  
If you'd like to receive their updates, please email them at 
storment6@gmail.com.
Ruben and Linda Torres (TX)
Ruben and Linda focus on nursing home ministry. We have about 20 t0 25 patients attending our services every Thursday: many times other family members of the patients, plus some the staff of the nursing home. One of the patients is 114 years old. Plus we do visitation room to room other days of the week reaching those who are bed bound. We share the gospel, and some have received Christ as their Savior. We have ministered in this nursing home for 3 years where close to 50 patients have received the Lord into their life. We thank God for the group of volunteers helping us. We continue discipling others, hold home Bible studies, door to door evangelism, and have Vacation Bible Schools and continue looking for open doors to share the living Christ with others.
Bob and Mina Twitchell (WA)
Bob and Mina say, "Our mission is not complicated. We want to show people who Jesus is by following His example. He places love in our heart for others and it is up to us to exercise it. About 9 years ago we were unexpectedly called as missionaries on the Colville Indian Reservation. It was unexpected due to past problems when often white people do not spend much time there. John 4:4 tells us how Jesus was "under a bond " to go through Samaria where Jews normally avoided going. Jesus showed us the reality that there is really only one "Race" – the Human Race, and the one He came to redeem to Heaven — all people — this is the essence of John 3:16."
It is not rare for Pastor Bob and Mina to show up anywhere on the reservation, however, we spend most of our time around Nespelem, the Reservation Agency area and most populated village. They have held Bible studies at the Tribal Convalescent Center for elders and a large variety of fun activities for the kids. One summer they drove 160 miles round trip every weekday for 3 weeks to serve as tutors for the school. God led us to develop the first Bible Camp at Lost Lake, specifically for Tribal kids- Camp NXASTAN- the "Camp of All the Good Ways" in native Salish. They were honored to host winter Family Movie Nights at the Nespelem Community Center where parents and kids came together for a meal, movie and inspirational fellowship. They provided the volunteers to build a stage and brought Christian concerts to the people. They have been involved in every aspect of the culture because all people need Christian friends. Building friendships for Jesus is our joy and calling. They also serve as mentors and hosts for a growing number of other Christians who join us in ministry with these precious souls in Christ's name.
Ed and Gerry Tyas (WA)
Ed and Gerry Tyas serve the Hispanic community in NW Washington living in a rural area made up of many small communities.  They love coming alongside people befriending and encouraging them. Many opportunities are open for Ed and Gerry to share Christ and the need of His salvation and the need to grow in Him. They hold one on one discipleship and children's Bible classes during the school year and V.B.S.'s in the summer.
Wade and April Wadsworth (WY)
Wade and April Wadsworth have served in church planting and nursing home ministry in Wyoming and Nebraska.  They are currently serving in nursing home ministry in eastern Wyoming and western Nebraska.
April comes from a family that engaged in drywall contracting and commercial fishing in Washington.  She grew up in Michigan, Seattle, Washington and the more rural Olympic Peninsula. She taught school for a number of years. Wade comes from a farming background in Idaho which fits very well the agricultural area where they currently live.  Wade graduated from Big Sky Bible College in 1981.  April and Wade married in 1986 and are currently living in Lingle, Wyoming.
John and Barbara Wild (OR)
John serves as a pastor at large in the coastal town of Lincoln City, Oregon. He pastors, teaches and counsels. She has a ministry in the art community and loves teaching children.