Dear Friends and Family,
We trust that you enjoyed a very blessed Christmas, just as we thoroughly enjoyed being with our family members! It was unseasonably warm but nevertheless a Christmas celebration of Jesus' birth.
In 2021, EE-Brazil conducted 11 training events under continuing pandemic conditions/limitations and equipped 332 people in those events. Praise the Lord!
This morning, with these results in mind, our team has been working on plans for an online meeting of local EE church leaders across Brazil. We have set a date of January 31st for this meeting. We are planning for a review of key EE principles, a few testimonies, a motivational video, some practical interaction between participants and a message about developing a love for the lost. Please pray for our preparation and for good participation via Zoom. January and February present challenges, as they are the peak summer months in Brazil, but we are asking the Lord for good participation. Ideally, we will exceed our limit of 100 participants via Zoom and have to schedule a second event to accommodate everyone!
During the remaining days of 2021, we are once again leaning forward into a new year with expectation to see God's people equipped to explain the Gospel and to train others to explain it, too. So, your continued involvement…investment in helping us to sow the Good News, as well as a vision for evangelism training in 2022 remains essential!! Some important details about 2021 year-end giving follow:
The donation system at Be One Together indicates that $8,675 has been received thus far this month for our support.

"Thank You" to everyone who has already given

! We are 87% of the way to the goal of $10,000 that we communicated to you earlier this month. Our December goal includes funds for our family support in the first quarter of the new year when giving will slow somewhat. In order to see the goal met, we are praying that several others will be giving in the remaining days before year's end this Friday evening.

Remember:

we will receive 100% of what you give, as no administrative fees are assessed by Be One Together.
Donate online up until 11:59 PM (EST), Friday, December 31st, by clicking here or on the Online Giving image below. Website donations that are received/completed at midnight (EST) and after must, by determination of the IRS, be counted in 2022.
Check donations mailed to Be One Together at the address below must be postmarked on or before 12/31/2021, also by determination of the IRS, to be counted in 2021 giving. In other words, the date of the postmark, not the date on the check, is what is used to determine a 2021 tax deductible gift.
Secure online giving, using the Online Giving image/link below, is available to help you more easily meet the deadline by using a credit card. But, if you prefer the mail, there is still ample time to mail a check with a 2021 postmark.
And don't forget, whichever way you choose to send your gift, the 2020 CARES Act Charitable Giving Tax Incentives (i.e., special provisions to help non-itemizers reduce their taxable income) were extended for 2021 and even enhanced. More info about this is available here: https://tinyurl.com/45nbyhee).
Thank you so much for your faithful support of our family during 2021!
Wishing you a very Blessed New Year!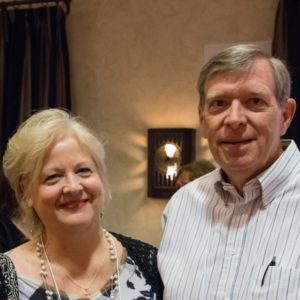 Prayerfully and with sincere gratitude,
Robert & Mary Jo Foster,
Serving Evangelism Explosion-Brazil
* Atualidadesis a Portuguese word that means news or up to date information. We want you to have the latest information in order to support us in prayer, as well as financially when the Lord leads/enables. Thank you!