Hello friends!
We are very happy to share with you that all funds were provided for the car (even more actually) and this happened within a few hours. It took quite longer for Marcelo to find the car! (and for me to share it with you).
Marcelo shared that on the morning of June 15th, after being worried for quite long time with finding a solution and even considering getting a loan, he finally trusted God in his heart and gave this issue to Him. It was on that same day that later Gila got the idea of sharing the need with you and I got the idea of the fundraising. And in a few hours, on the same day by night, all funds were provided! For us it was a powerful lesson about faith in God and how it puts things in action.
We praise God for this and we thank you. How beautiful is to see God taking care of everything (hasn't He promised that?) and involving His children on His work.
Below is a photo of Marcelo, Marjorie and their girls next to the new car.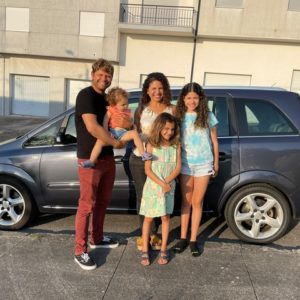 Update from Nuno and Gila
Portugal