Hello dear friend,
I wrote this message when I was sitting in the Surf Church van waiting for the tow truck. To sum up this long story, since December the van has been at the mechanic waiting for parts to be fixed, as until today we couldn't find the parts we decided to sell the van. In the next newsletter, we will talk more about this.
These last months leading up to summer were quite intense.
At the beginning of June, as we shared in our last newsletter, we were as a family in a church in Germany to strengthen the partnership they have with Surf Church, Samuel had the chance to share the Word in different meetings organized by the German church and we could have been seen, heard and loved by this church that has collaborated with us for many years already.
At the end of June, we had an international conference for young people at Surf Church, held by a group called Genesis Collective. It was a very inspiring time, as we had around 150 young people from all over the world in our space. https://www.instagram.com/p/CfiBWJIDNwu/?igshid=YmMyMTA2M2Y=
We praise God for his grace and mercy and for being able to be part of his Kingdom.
I also write this message with a heavy heart. A few nights ago the window of our car has been broken inside our garage. We don't know exactly what was the intention of the person who did that, as nothing was stolen and there were a total of seven cars that suffered the same problem. But we are trying to sell our car and this is happening right now. We know that God's plans are bigger than ours and we want to rest in Him as we wait for Him to do His will in us.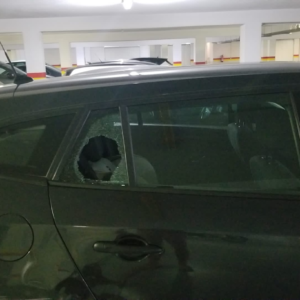 In between the ups and downs, we are fine and grateful to the Lord because He is always good and His love lasts forever!
Our prayer requests are:
• We give thanks for God's deliverances
• Thanks for the opportunity to meet and walk with so many different people in our ministry
• May the Lord bless Surf Church and help us find and buy a new van
• May the Lord bless our family and also help us find and buy a new car for our family
• May this summer be a time where we can bless many people who will come through.
Also, I was leaving to go to work today and figure out that my bike was stolen from the garage. It's my daily vehicle, the one I ride to go wherever, take kids to school, surf board to surf and work. Please pray for us, clearly the enemy is trying to put us down.
Update from Sam and Claudia
Portugal